Transportation with comfortably & safety
VAN Transportation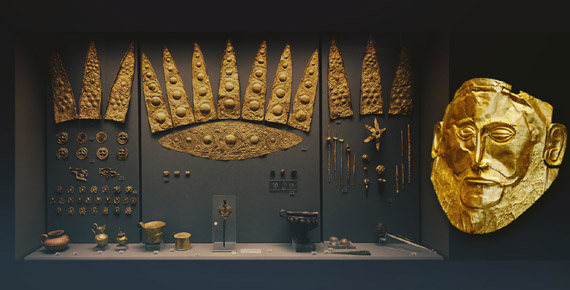 Excursion with luxury VAN
VAN Transportation
Excursion / Transportation to Mycenae (Peloponnese)
Your excursion / transfer starts from the point you have chosen for Mycenae. Mycenae was an ancient city of Argolis, the kingdom of the mythical Agamemnon and lies between two high conical hills, Prophet Elias (805 m) and Sarah (660 m), on a low hill dominating the Argolitic plain.
One of Greece's most important archaeological sites, a thrilling World Heritage Site.
Homer's "multicolored Mycenae" in Ancient Greece. The most important and rich palace center of the Late Bronze Age in Greece was based in the Peloponnese. According to Greek mythology, Perseus, the son of Zeus and Danae, were their founder.
The site of Mycenae also houses an amazing museum. A UNESCO World Heritage Site.
In Mycenae you should see:
- Cyclopean Walls: walls made of giants
- The imposing Lions Gate
- The golden "cloak of Agamemnon"
- The eternal abode of the mythical Atreus
- The Archaeological Museum of Mycenae
Contact us if you would like to combine other sites with this excursion.
Our drivers are professionals with extensive driving experience to make your transportation safe and responsive. All safety rules are followed as far as seat belts are concerned and child safety seats if required.
We pay particular attention to safety and consistency but at the same time to luxurious travel to and from the point you have chosen.
WE PROVIDE SAFE AND QUALITATIVE TRANSPORTATION SERVICES IN A PERSONAL APPROACH!
Safe Transportation
We safely transport you to any destination you want!
7 days a week Service
VAN Transportation can meet your needs 7 days a week, 365 days a year.
Comfort & Safety
Our vehicles have mobile phone system, seat belts, ceiling display, mini fridge
Privileges
We transport you to your destination at very affordable rates!
Consistency and Responsibility
It is one of our goals and we follow it faithfully.
Luxurious Transportation
Our customers are transported in luxurious vehicles!
Professional Drivers
Our drivers are professionals with a great driving experience!

All of our cars are equipped with free Wi-Fi